At Go Pest we are on a mission to provide the great people of Auckland with healthy, pest free environments.  We achieve this by using effective control methods, with a focus on customer and environmental safety.
We genuinely care about our customers and pride ourselves on providing excellent service that you don't often receive from the service/trade industry.  We value your time and ensure we turn up on time and offer the latest and best possible pest control products and techniques.
It's funny how some businesses start, back in 2011 we had a pest control treatment done in our home for white tail spiders – we had a baby on the way and wanted to make sure she'd be safe.  We had a terrible experience, the pest controller offered to spray our bedding and didn't require us to do any preparation and left the carpets soaked, even though we were uneducated about the requirements at the time we knew this wasn't right.
We looked into the industry and thought hey we can do this much better so decided to set up Go Pest and here we are thousands of pest control treatments later, still sticking with our promise to provide safe effective treatments and unbeatable service to all our customers.
Wayne
Wayne is a possibly the most passionate pestie you will come across. He has an amazing ability to solve the most difficult of pest problems and works tirelessly to provide the best possible service to our wonderful customers. Oh and he is very polite too. Outside of work, Wayne is a mad keen fisherman and his favorite thing to do is go for overnight trips on the boat. He's also very keen on sport, especially rugby and loves his dog and cats. He owns six BBQ's of varying description (which all have a purpose apparently) and he's known for whipping up a delicious feed for friends and family. Camping trips are top of the to do list too but only if the location has a decent boat ramp or good land base fishing. Wayne has had a pretty interesting life, he spent 7 years living in Oman and the United Arab Emirates as a facility manager in hospitality and GM for a cruise company.
Sandra
Sandra is Go Pests all things in the office and behind the scenes girl, from customer relations to accounts and marketing and she's super efficient at them all. She loves dealing with customers the most and ensures everyone is well looked after. It's her joy to receive amazing customer feedback, it really makes her day. Outside of work, Sandra loves to entertain family and friends. She's a keen walker and walks her daughter to school every day with Tilly the crazy family dog in tow. She is often found digging around in her organic vege garden and loves to go on weekend mini breaks especially to a beach. Sandra has travelled to more than 30 countries while living in the UK and Middle East. Some of her travel highlights are hiking in the Himalayas, white water rafting in Nepal, hanging out in the bazaars of Iran and exploring Petra. She spent 12 years working in the health sector and a couple of years in business development in the tourism industry.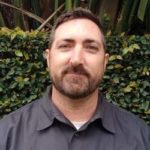 Vaughn
Vaughn joined Go Pest in October 2019. He has many years of experience behind him in both commercial and residential pest control and is a real asset to our team. He's very friendly and goes that extra mile for our customers and has been getting rave reviews, which we are super happy about. Outside of work, Vaughn is a dedicated family man through and through, he's married and has a daughter and two sons as well as a dog and cat. He's got a huge vege garden and toils away in his spare time, producing lots of tasty fruit and vege for family and friends. He enjoys fishing, martial arts and loves animals and takes pride in helping people where he can.
Here's What Our Customers Are Saying About Us…
Prompt, friendly same day service with excellent results; the owner / technician arrived at the correct address at the exact time when arranged; he analysed and treated the problem immediately with the result that the pest problem was eliminated within a matter of days. And then excellent follow up service as arranged and excellent overall communication. I do highly rate this business to get the job done at a reasonable price. Look no further; 100% satisfied. Highly recommended.
I used go pest for cockroaches in the kitchen, the process was so easy and efficient from start to finish. Sandra made booking a breeze and the technician arrived on time and was super friendly and helpful with all the questions I had. They also provided a ton of information and I saw results within the next 24 hours. I would recommend them to anyone looking for great customer service and fast, reliably results.
Absolutely brilliant service, super friendly and very experienced. During our long run with a rat problem on the property Wayne has become part of the family, it's taking a while but we must have had most of the rats in Auckland around our place due to neighbours with a compost heap. We're certainly doing our bit to eradicate a vast population of rats. Luckily they haven't been inside. All traps and bait are carefully erected so as not to be accessed by my or neighbours cats, that is so appreciated.